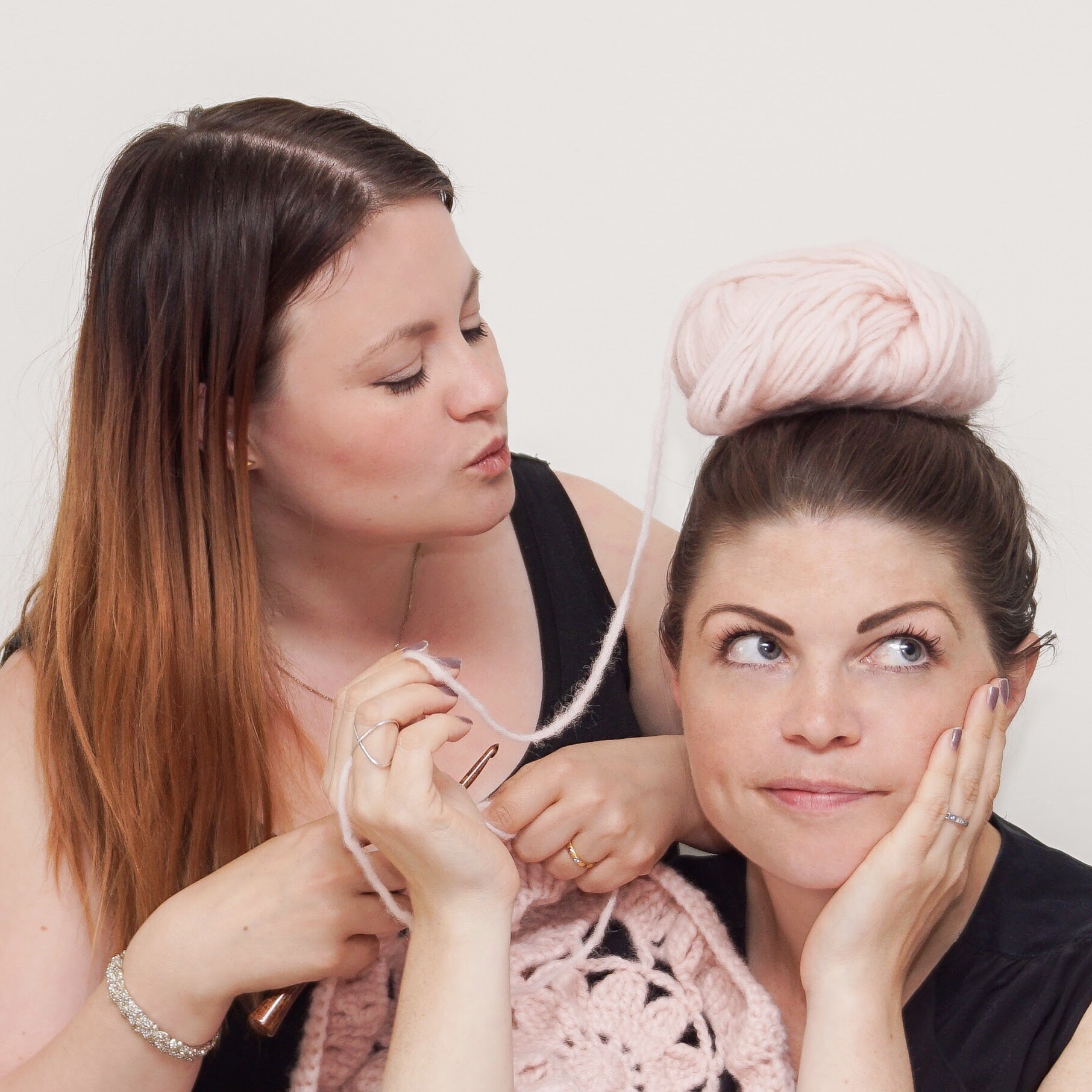 What can happen when two people share an interest and meet on Instagram? Well a lot!
We met in 2017 through our mutual love of crochet and creating; from then we have built a creative company together. Here in our podcast we talk about crocheting and life; about being creative mothers with small kids while also being girl bosses. We go deep into current subjects in the creative community and our lives, addressing highs and lows, all while having a really great time.
The Sip Stitch Podcast was launched in June of 2018 to compliment the Sip Stitch Live that was then hosted on Instagram. Today our podcast has grown and become completley independent. 
A new episode is released every other Thursday on both iTunes and SoundCloud.
Kay is on a socialmedia diet of sorts, and the weather keeps putting Tess on one too!
Let's talk about that now shall we?
Peanut has turned into Flora and is live and kicking on the outside. So in this episode we talk delivery and babies. Isn't it all just lovely? Well maybe not all of it?
Tess is not as amused when there is mention of placenta…but then again it is all part of the magic of life and the joy of babies. Tune in for this awesome baby episode!
Kay and Tess talk about feelings and thoughts post CAL. The Butterfly Effect is completed and with that comes loads of things to talk about. There might just also be a mention about the fact that Peanut is out and where does the water go after a C-section?
Well we actually don't know, sometimes we just ask the questions!
Tune in to find out more…  
It's Valentines Day so Tess and Kay are celebrating Galentines Day!!
We are spending this day talking about where we are in The Butterfly Effect CAL 2019 – talk about troubles and how we are handling everything. Rolling with the punches and business talk.
This is an episode that gives you an insight in the work behind this massive project we've set in motion. Come join us!
Mars Music – www.marsmusic.se
Jen Tyler – https://hooksntales.blogspot.com
Tess and Kay go in deep talking about competition between women and about having to take a backseat when being in business with each other.
How has Tess dealt with her inner diva being off stage and what has been Kays thoughts about the difference in account sizes? Tune in to find out in this episode you don't want to miss!
In this really fun episode we get to hear a discussion recorded long before the CAL even started. We get to hear thoughts and plans that Tess and Kay had about the CAL at this time. Did any of it happen? Or did they have to compromise on like everything? If you have joined the CAL you will probably know those answers so don't miss this great episode, recorded for the future, in the past and being listened to in the present!
In this really emotional episode Kay and Tess talk about being pregnant, what it means to them and their thoughts and feelings. Talking a bit about the meaning of crocheting and why it became such an important part of Tess's life. Why did it? 
Tune in to find out more in this episode that might just make you reach for your tissues.
Episode 16. The "Inbetweenie" - The CAL has started!!
This is a small "inbetweenie" as Tess would call it. Announcing that FINALLY our first ever CAL has begun! The Butterfly Effect CAL 2019 in collaboration with Yarn and Colors. So we just want to say yay! 
…And welcome! 
…And yay again!!! 😀
Links 'n' things:
www.SistersInStitch.com/cal
www.SistersInStitch.com/cal/part-1
Episode 15. Two Peas in a pod
They are back!!!! After radio silence in December it is finally time for the first episode of 2019. What happened in December, why were they gone?? How are they now, and how do they feel about each other after almost two years of friendship? This episode is all about friendship, family and supporting each other. Don't miss this return of SistersInStitch!
Episode 14. Feeling colourful
Episode 13. Let's talk creativity - Part 2
Episode 12. The Butterfly Effect
In this, to us, very special episode we are so happy to reveal the BIG SECRET that we have been working on since April! The reason for all the absent Instagram days and what the SistersInStitch are up to behind the scenes. To be one of the first ones in on all the secrets and hearing Tess slip up not once but twice tune in! It's a fun one!
Shownotes:
Yarn and Colors www.yarnandcolors.com
Joy from crochetroad: https://www.instagram.com/crochetroad/
Erika from fingerscroched: https://www.instagram.com/fingerscroched/
Episode 11. #Humansthatyarn
In this extra episode we are really happy to be joined by our first ever guest! Dionne Pinder from The Craft Yarn Council got up early to chat to us and we had such a blast! We talk about what the council does, about their current campaign #humansthatyarn and about valuing your work as a crafter. Of course we touch upon topics like copyright, creativity and social media – what would one of our podcasts sound like without them?? Tune in to hear this special, live episode brought to you from both Stockholm and Dallas this cold autumn day.
Links and all that jazz:
The Craft Yarn Council: https://www.craftyarncouncil.com/
Humans That Yarn: https://www.craftyarncouncil.com/lp/humans-that-yarn/
Makerstrong from CYC: https://www.youtube.com/watch?v=4G8yyrHuQOQ&list=PL0JuDjOUpmsZKDuV0RqTrvTSirOnXAjB6&index=14&t=0s
Makerstrong on Instagram: https://www.instagram.com/makerstrong/
The three yarnists behind the Makerstrong Instagram profile
TL Yarns Crafts: https://tlyarncrafts.com/
Kitatude: http://www.knitatude.ca/
Woodsandwool: https://www.woodsandwool.com/
And a little extra for those of you who found the shownotes 😉
Survey results from Craft Yarn Council mentioned in the podcast!
Research regarding newcomers and people who don't craft with yarn:
We surveyed 3,588 active knitters and crocheters in fall 2017

For newcomers to the craft (i.e., those who learned in the past 12 months), 16% were between ages 18-34. Across the board, 41% of newcomers were inspired to learn by a family member or friend.

Internet inspiration plays a big role too. 98% of our respondents said they find project ideas on the Internet, with social networking sites claiming the largest chunk at 89%.

We also

surveyed an online panel of 401 women ages 18-54 who do not know how to knit or crochet but use yarn in other ways.

48% use yarn for general crafting, with the 18-24 year olds representing the largest age group at 61%. Overall, the top three yarn projects for yarn crafts were: holiday (72%), kids-related items (56%) and wall hangings (42%). 

Most importantly, 66% of non-knitters are interested in learning to knit and 65 percent of non-crocheters are interested in learning to crochet'
Episode 10. Instagram...friend or foe
Episode 9. Let's talk creativity - Part 1
Sometimes you need to just go with the flow, we had big plans on what to talk about when it came to creativity and we didn't touch upon any of those topics. 
Instead we ended up talking about creativity in a completely different way and that is why this is part 1, because we have so much more to talk about when it comes to creativity. Creativity can be messy and so can we, tune in to find out just how messy!
Podcast mentioned in this episode:
Armchair Expert with Dax Shepard –
https://itunes.apple.com/se/podcast/armchair-expert-with-dax-shepard/id1345682353?mt=2
Episode 8. Testing Testing
Episode 7. You can never plan for life
Episode 6. Don't be such a square
Episode 5. He said, she said
Episode 4. Hobby to lobby
Again we talk about copyright infringement and the consequences. We answer a few questions that we have been sent and try to figure out why some people don't want to pay for patterns.
A uselful thing we mention is:
Duck Duck Go!
Episode 2. Hook around the clock
Mombosses.. How do they do it all?!
Well we might not have all the answers but we will let you know how we manage our time as creative mothers with small children starting up a business. We let you in on everything from the apps we use to how we try to balance our family while working so much.
Apps and other useful things we mention:
Slack:
Gmail:
Google Drive:
https://www.google.se/drive/about.html
Bullet Journal:
Konmari Method:
Jenna Kutcher:
Episode 1. To take or not to take
We talk about copyright infringement and the moral as well as etichal sides of pattern stealing. We are really grateful that one of our viewers from the Sip Stitch Live brought our attention to a free summary to help crocheters with copyright from Interweave.
You'll find the free guide by clicking here.